A conviction portfolio management company
Founded in 2004 and revitalized in 2013 in Paris, Dôm Finance is an independent entrepreneurial management company dedicated to professional investors, wealth management advisors, business leaders and individuals.
Its management philosophy based on the cross-cutting expertise of its management team aims to bring recurring and controlled performance to its clients.
Dôm Finance, 25 financial professionals have between 3 and 40 years of experience with expertise on all asset classes (corporate bonds, financials, European and international equities, choice in strategic asset allocations…).
Dôm Finance is also about twenty investment vehicles open to our clients that reflect the quality of our financial management in relation to the level of risk taken.
It is also an expertise in management mandates for medium-sized and institutional-sized portfolios between 10 million and 650 million euros. The management process, market analysis and understanding remain the same for all clients.
Dôm Finance, with a private insurance group as its main shareholder, has a substantial amount of capital, the most experienced risk control and, above all, an ambition to be among the most dynamic companies in its sector.
Introducing Dôm Finance and our events
Md€ of assets under management
assets of our largest funds
growth of assets in 7 years
Dôm Finance has grown from 120 million euros in assets under management to 2 billion euros in assets under management in seven years.
The company merged in 2013 to merge Alcis Management and Blue Diamond Management in 2019.
These mergers of the three management companies have combined a real management technicality with a large commercial force.
Several CFPs bear the name Alcis, because of their seniority and other more recent funds, bear the name DOM and Blue Diamond.
We are proud of our history, which is why we wanted to keep these different denominations, symbol of our expertise since 2004.
These mergers have enabled the building of a management team of 12 seasoned managers, with complementary specificities.
Dom Finance and the Burrus Group, a family and independent group since 1923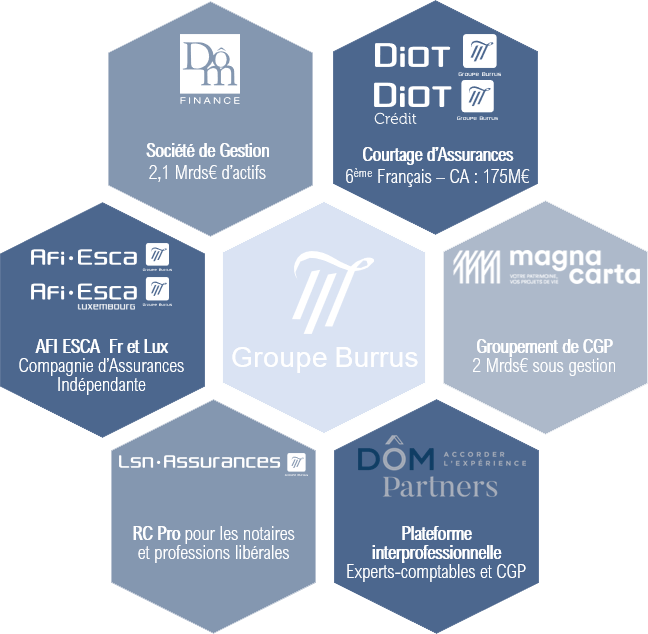 Since its inception, DÔM Finance has understood that the preservation of the funds entrusted is a top priority.
We manage all portfolios by seeking to take advantage of the excesses ofthe market, without succumbing to the effects of fashion or the consensus of place.
Once the performance has been achieved, we must analyze it, explain our convictions and it is this presence with all our customers that makes all the difference.
We know and understand all the problems of our clients,whether they are professional or not, whether they practice management under constraints or not.
Our professionalism, friendliness, presence and simplicity make DM Finance an open and authentic portfolio management company with a strong ambition of success for our clients.
We are aware that our customers and employees are our two core values. We deploy unsumed energy to satisfy them and ensure that DÔM Finance fulfills its core mission:
"to grow funds with a controlled degree of risk"
Our management philosophy
"The mountain is like the Economy and the markets, it offers us the décor … it's up to us to create the performances that go with it"
Our management philosophy is to invest when risk is paid at least at its fair value and to sell when the expected gain is no longer sufficient in the face of the risk taken.
This philosophy leads us to have a pragmatic approach, far from any dogma.
Thus our strategy will evolve over time to adapt to the market environment.
Our quantitative analyses, on the same asset class or between asset classes, aim to assess the risky assets between them against the risk-free rate.
These analyses are confronted with fundamental analyses. The synthesis between quantitative techniques and the fundamental allows us to optimize the return/risk ratio in accordance with the investment criteria of each portfolio.
Drawing on our various experiences, we focus our energy in search of a performance controlled over time.
We also leverage the strengths of our human-sized business to be responsive both in our investments and in the products we develop for our customers.
To offer short-term products that perform well in the face of historically low risk-free rates, to manage equity based on convictions, to manage a high-performance diversified management combining common sense and calibrated risk-taking, to constantly think about evolving our group product range or our mandate management; these are the objectives of our management team.
Finally, Dôm Finance is a management company capable of offering its clients a real diversification in management thanks to its differentiated strategy and the originality of its funds and their management.
Stock allocation by asset class (%)
Stock allocation by type of customer (%)
Our mandate management and dedicated funds
The mandate management and dedicated funds are aimed at institutional and private clients who wish to benefit from personalized, reactive and tailored professional expertise.
The client and the management team under mandate determine their management guidelines, performance monitoring indicators, contractual or regulatory limits, and the frequency and form of reporting.
In parallel to this dedicated mandate management, Dôm Finance has also developed a mandate expertise in managed management integrated directly into life insurance contracts.
Institutional mandates
Faced with the complexity of the market environment and regulatory requirements, mandate management offers an appropriate investment solution for institutional investors wishing to benefit from tailor-made management.
Our S.C.R( (Solvency Capital Requirement) and L.C.R( (Liquidity Coverage Ratio) leveraged management is an illustration of our ability to offer investment solutions that take into account the new regulatory constraints of our insurer and bank clients, both in terms of financial management and reporting.
Proven expertise in multi-management through fund selection.
Bespoke reporting tailored to your constraints.
The organization of your financial committees in partnership with the governance of your institution.
Responsive management has your image
A total transparen
Private Client Mandates
We develop a bespoke management offer through mandates and build a close relationship with you through a common language. Our concern is to manage your wealth as best as possible while following your financial and tax requirements. This management is available from 100,000 euros.
In line with your heritage, we analyze and evaluate your objectives in detail.
We define your level of acceptance and risk appetite.
Then we build your portfolio, as market opportunities go, either in lively securities or through open architecture investment vehicles.
We strive to optimize the performance/risk ratio of your portfolio, based on your risk profile, all through understandable investments.
Our SRI approach
Responsible investing, a conviction.
We are convinced that the implementation of a responsible investment strategy increases the financial performance of our management, benefiting from a positive environmental and social impact. Dôm Finance wants to be one of the most innovative management companies evolving with the new challenges to be integrated.
We integrate at the heart of our asset management the consideration of extra-financial criteria for sustainable performance and a more sustainable future. Our long-term vision has given Dôm Finance the desire to reconcile two worlds that have hither been opposed: capitalism and sustainability. Through the fruits of our activist management, we are committed to making a positive impact through the companies we fund. Our approach to integrating ESG issues into our management enables our managers to improve risk management by having a positive impact on our environment, as well as on all stakeholders. We assess extra-financial risks to improve the quality of investors' portfolios for sustainable long-term growth.
We chose to work with data from MSCI, an independent provider of extra-financial data that measures the performance of all types of issuers (private companies, sovereigns, bond issuers, supranational issuers).
The analysis of the ESG criteria is integrated as a supplement of information essential to decision-making. They allow us a better understanding of risks and opportunities through our investment universe.
Companies that pose an environmental, social or governance risk are subject to more frequent controversies. This bad news, which is more often used in companies with little regard for their ESG issues, represents major risks in the investment decision. Our managers are responsible for taking into account all available information, regardless of financial and extra-financial, in order to invest in the best performing companies and sectors. The ESG proves its resistance to the coronavirus crisis.
"At Dôm Finance, responsible investing means building outperformance while balancing the interests of all stakeholders."
As an investor, we have the strength to be able to partner with others to change lines for the benefit of our customers. To give itself the means, Dôm Finance invests in quality data and powerful tools. We actively support local initiatives and public action. Dôm Finance is a signatory to the Carbon Disclosure Project, a non-profit NGO that publicly reports environmental data on more than 2500 issuers. This initiative allows us to promote shareholder engagement alongside other influential investors. CDP brings together nearly 520 investors for a management outstanding of 106 trillion euros!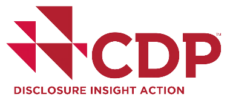 Dôm Finance is committed to its scale to preserve the environment
We have a responsibility to protect our environment as much as we can. We have three actions in place that we are committed to respecting.
We have been permanently stopping the consumption of water from plastic bottles since 2019. We installed a rechargeable water fountain. At this rate, we avoid the consumption of more than 2,000 bottles a year thanks to water fountains.
We aim to have a carbon-neutral balance. To do this, we plant as many trees as necessary through Reforest'Action. Since its inception in 2010, Reforest'Action has planted more than 5 million trees.
In 2019, we moved to 1 Rue des Italians in an eco-friendly building. Automatic lighting, self-regulating heating and sensors on taps significantly reduce our carbon footprint.
By the end of 2020, other environmental economics topics are under consideration.